Sackers Highly Commended in the Supporting Diversity category at Women in Pensions Awards 2019
Sackers were Highly Commended in the Supporting Diversity category at Professional Pensions' Women in Pensions Awards on 11 July 2019.
Debbie Holmes, HR Directory at Sackers, commented: "We are delighted to be recognised for this award.  We place an emphasis on enabling staff to have a good work-life balance and recognise the impact this has on performance. Many of our staff are working parents or have other caring responsibilities. We have a number of family friendly policies in place to make it as easy as possible for staff to fulfill these responsibilities, without feeling that they are not keeping up with their peers or are failing to meet Sackers' expectations.  Overall, 40% of Sackers' staff work flexibly, with 50% of partners, 37% of associates and 36% of business services staff in a formal flexible working arrangement."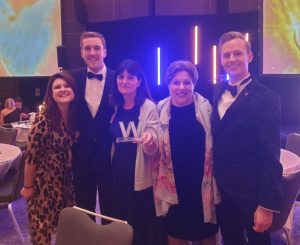 Associates Emily Rowley, Liam Goulding and Andrew Worthington and HR Director, Debbie Holmes and partner Helen Baker accepted the award of behalf of Sackers.