Stuart O'Brien part of PLSA taskforce publishing new guide for trustees on ESG and Stewardship
Partner, Stuart O'Brien, is part of a PLSA taskforce which has published the Responsible Investment Guide 2019 – ESG and Stewardship: a practical guide to trustees duties.
The guide provides practical, step-by-step guidance to help trustees meaningfully consider, design and implement ESG and stewardship approaches.  It uses myth-busters, case studies and questions that trustees can instantly use with their advisers and managers and is relevant for all trustees.
The guide is available to download from the PLSA website, and is accompanied by suggested additional reading, case studies and questions for advisers and managers.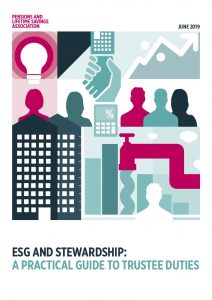 Pensions Minister, Guy Opperman, has praised the publication of the guide in Pensions Age, ahead of new ESG, climate change and stewardship requirements affecting pension funds trustees come in on 1 October 2019: "It not only sets an expectation that all schemes have a responsibility here. It also highlights actions that all schemes, whatever their resources or capacity, can do."