ESG and climate change
Environmental, Social and corporate Governance (ESG) factors in pension scheme investing continue to dominate headlines and trustee duties.
As we look forward into 2021, pension trustees are facing continued regulatory developments and new deadlines, as well as an increasing impetus to consider the potential impact of the climate crisis on their investments.
At the forefront of the ESG debate
We have been advising on trustees' legal duties with regard to financial and non-financial factors, including ESG, 'socially responsible investing' and 'ethical', 'impact' or 'green' investing for a number of years, and our experts are at the forefront of the debate. Sackers is proud to have played a key part in devising new guidance for pension trustees on managing and reporting climate risks.
The Pensions Climate Risk Industry Group (PCRIG), which is chaired by partner Stuart O'Brien, published the guidance "Aligning your pension scheme with the Taskforce on Climate-Related Financial Disclosures recommendations" on 27 January 2021. Go to our webpage here to download the guidance.
The guidance assists trustees in applying the new climate change governance requirements underpinned by the Taskforce on Climate-related Financial Disclosures ("TCFD") recommendations. You can find details of the new climate change governance requirements here.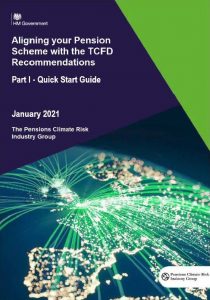 Keeping trustees up to date with developments
Our new guide for 2021, ESG and climate change for pension funds: A guide to trustee disclosures from 2021 considers how trustees should respond to the latest regulatory disclosure requirements. These include the deadlines for the new climate change disclosure obligations, as well as SIP updates and the requirement for trustees to publish annual "implementation statements" setting out how trustee ESG and stewardship policies have been followed during the year. The new changes affect both DB and DC schemes, and dates may vary according to the scheme size as well as scheme year.
With climate change firmly under the spotlight, our 2021 guide also looks closely at the TCFD disclosure requirements. In addition, we look at the issues to be considered when drafting a responsible investment policy and how recent case law has had an impact on ESG disclosure obligations.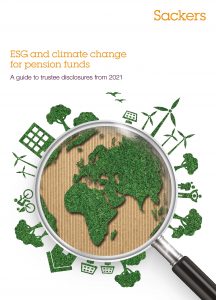 Read all our earlier guides here for a look at how trustee duties have evolved.
Download our useful action plan below: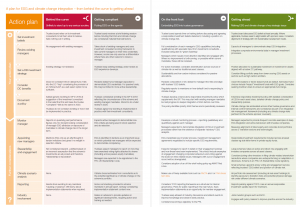 Recent experience
Assisting clients with TCFD reports
Assisting clients with implementation statement reviews
Advising trustees on investment in ESG specific funds, including SFDR Article 8 and 9 funds
Reviewing and advising on responsible investment policies and frameworks
Providing trustee training
How we can help
We advise on the development and implementation of ESG strategies consistent with trustee fiduciary duties and the development of trustee ESG and engagement policies and climate-risk integration, including how to document trustee responsible investment policies and related wording for a scheme's SIP and annual implementation statements. We also provide ESG training for trustees and pension scheme providers.