ESG
Environmental, Social and corporate Governance (ESG) factors in pension scheme investing have risen to prominence and continue to dominate headlines.
Our experts are at the forefront of the debate and are involved in a number of industry groups and initiatives. We have been advising on trustees' legal duties with regard to financial and non-financial factors, including ESG, 'socially responsible investing' and 'ethical', 'impact' or 'green' investing for a number of years.
Trustees will need to revisit their Statement of Investment Principles (SIP) to ensure they remain fit for purpose, as they are now required to set out how they take account of financially material factors and stewardship, including but not limited to, environmental, social and governance ("ESG") factors, including climate change.  For full details of the updated regulations and what steps trustees need to take, see our Alert.
Further changes to SIPs and disclosure requirements were announced in June 2019 which will affect both DB and DC schemes, including annual reporting from as early as 2020.  Read our Alert for details, with a summary of all upcoming changes in our latest finance & investment briefing.
You can also download our ESG and Extended Stewardship  sample regulatory timeline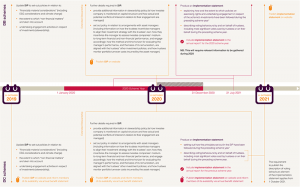 Our latest guide for pension trustees, ESG and climate change for pension funds published in February 2019 has been awarded 'Best Thought Leadership Paper on Sustainable Investing' by Environmental Finance in their Sustainable Investment Awards 2019.  It has also been shortlisted for in two categories in the Pensions for Purpose Content Awards 2019 under 'Strategy' and 'Most read content'.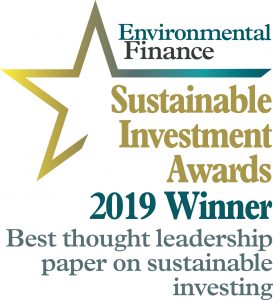 The guide focuses on how to put the law into practice and includes a full action plan for trustees, empowering them to get their scheme a step ahead, and equips them with the tools to challenge their advisers and ensure that the values of the scheme are accurately reflected in its ESG policies.  The guide contains an update of all the latest legal developments and progress surrounding trustees' duties in this area from the UK and EU, what's coming up on the agenda for trustees in the next 12 months, including TCFD, stewardship and DC considerations.
Our earlier guides – Where next for ESG? and A practical approach to ESG, looked at how the trustee duties have evolved and how different types of schemes could incorporate ESG into their investment strategies, as well as considering stewardship, the duty of care and member concerns and complaints.
Recent experience
Advising a large UK pension scheme on development and implementation of ESG strategy in relation to their DC default fund
Advising trustees on how to incorporate ESG in to their Statement of Investment Principles (SIP) and updating their policies to ensure compliance with updated regulations
Assisting 7 of the 25 largest UK DB pension schemes with their responses to letters from the Environmental Audit Committee
Delivering training on fiduciary duties and ESG factors to a number of pension scheme trustees and providers
Advising a social investment group on issues for DC funds investing in socially responsible funds to inform their response to the 2016 Law Commission consultation
Assisting prominent schemes in responding to member / pressure group queries.