Sackers is recognised as a Top Employer 2023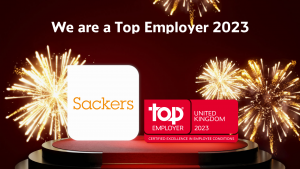 Sackers announced today that it has been certified as a Top Employer 2023 for its outstanding HR policies and people practices.
Debbie Holmes, HR Director at Sackers, said "We pride ourselves on our unique culture and the down to earth people who make Sackers a great place to work. The importance placed on staff wellbeing, the provision of high quality learning and development, and initiatives to improve diversity and inclusion are just some of our standout qualities. This recognition really showcases the firm's efforts to make sure people can flourish at work and the belief that this in turn will enhance our ability to provide top quality advice and service to all clients".
The Top Employers Institute programme assesses organisations via a rigorous analysis of their people practices. These include People Strategy, Work Environment, Talent Acquisition, Learning, Diversity, Equity & Inclusion, and Wellbeing.
David Plink, CEO at Top Employers Institute, added: "Exceptional times bring out the best in people and organisations. The certified Top Employers 2023 have always shown that they care for the development and wellbeing of their people. By doing so, they collectively enrich the world of work. We are proud to announce and celebrate this year's group of leading people-oriented employers: the Top Employers 2023."