Helen Ball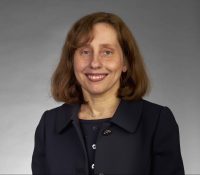 Contact
Tel: § + 44 (0)20 7615 9509
LinkedIn

---
Partner
About
Helen is a specialist pensions lawyer advising employers and trustees on all aspects of pensions law. Since joining Sackers in 2000, she has built up a reputation for providing practical and commercial advice, particularly with regard to complex and technical legal queries.
Helen has a particular interest in new legislation, regulatory and policy development. As head of Defined Contribution she has been involved in some of the cutting edge work completed by the firm over the last few years.
Recent DC experience includes:
Advising master trusts and DC schemes on DC governance and TPR's DC Code of Practice
Establishing new DC occupational pension schemes, preparing their rules, member communications and third party contracts
Negotiating administration arrangements with third party suppliers
Advising on statutory money purchase illustrations, member booklets, pre-retirement communications and scheme websites
Advising Independent Governance Committees (IGCs), including the terms of appointment for IGC members
Advising on the use of reserve account/surplus assets in DC schemes
Advising on changes to retirement options, including flexible retirement and partial transfer policy
Introducing changes to benefits such as auto-enrolment, reductions in future service accrual, and bulk transfers/scheme mergers
Advising on compliance matters, such as late payment of contributions, failure to issue benefit statements on time, failure of administrators to provide annual "compliance" certificates
Removing ill health and death benefits from registered occupational schemes and replacing them with benefits in an unregistered group life policy
Advising on investment changes, moves to provider platforms and default fund strategy changes.
DB experience:
Advising on benefit changes, scheme transfers and mergers
Advising trustees and employers on valuation discussions and their related work with TPR
Advising on switching from a trustee board to a sole corporate trustee
Advising on the introduction of partial transfers and the prevention of transfer scams
Advising on DB policy and regulatory changes.
---
Memberships and Qualifications
Membership of professional bodies:
Association of Pension Lawyers (Full Member)
Money Purchase Pension Forum
---
Career history
Qualified: 1998, England & Wales
Pensions experience since: 1998
Joined Sackers: 2000, Associate: 2004
Joined partnership/LLP: 2006
Employers: DLA, Leeds (1996-1998)
Eversheds, Leeds (1998-2000)
---
Academic history
University/College:
Somerville College, University of Oxford (1992-1995)
College of Law, York (1995-1996)
Degree: BA Jurisprudence (Law) and Legal Practice Course
---
Further Information
Testimonials:
Ranked lawyer in Legal 500 2016
Ranked lawyer in Legal 500 2015
Speaking/Publications:
Helen has spoken at the PLSA Annual Conference, PLSA Hot Topics Forum, the Professional Pensions Show, Money Purchase Pension Forum and participated in the Professional Pensions DC Roundtable and Pensions Expert's DC debates.
Helen has written many articles for publication in Professional Pensions, Pensions Expert, Employee Benefits, and HR Director on various DC subjects. She is also regularly quoted on topical pensions issues in various trade journals.
---