Barbie: the Pensions Regulator's 'ideal' trustee?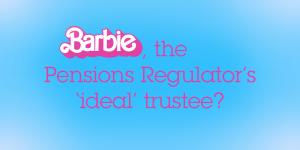 *This blog contains spoilers for the new Barbie film
Barbie has had many careers since her inception in 1959 but, to my knowledge, an occupational pension scheme trustee is not one of them. Has she missed her calling?
Earlier this year, TPR published its equality, diversity and inclusion ("EDI") guidance for trustees. It is aimed at supporting trustee boards (and sponsors) in exploring and improving EDI in their schemes. TPR's encouragement to consider and harness diverse views comes on the back of a general understanding put forward by TPR that more EDI-focussed schemes can produce better outcomes for members and more positive overall member experiences.
What about the "I"?
The concept of providing equal opportunities is not a new one in the pensions sphere (or wider society). Over recent years, trustee boards are increasingly becoming more diverse, with different protected characteristics, such as race and sex, and beyond, including differing accents and socio-economic upbringings. However, "inclusion" has long been the Ken of our EDI trio – a nice addition but less often explored. Are the diverse opinions, ideas and viewpoints around the table able to be voiced and listened to? Ensuring that they are is the essence of inclusion.
That's where Barbie comes in!
In her alternate reality, Barbieland, Margot Robbie's "Stereotypical" Barbie enjoys a world run for and by the other Barbies, i.e. women. Kens exist (and are treated fairly) but the Barbies run the show. When faced, however, with the "Real World", Barbie is confronted with not only the (comparatively!) drab aesthetic of Los Angeles but also the everyday injustices faced by Barbies going about their everyday lives (mostly at the hands of pesky Kens).
She returns to Barbieland to find Ryan Gosling's "Just Beach" Ken has moved into her house, added questionable horse-related décor and saloon bar doors to her colourful interior design and taken over the running of things. Barbie has the power to return Barbieland to the pink utopia she left but she rejects this.  Instead, Barbie's experience in the Real World (which may have provided an opportunity to catch-up on TPR's EDI guidance) reinforced her desire to create an inclusive Barbieland. A colourful, sunny life by the beach could only be improved by embracing the Kens; understanding their needs and allowing them to contribute led to a happier Barbieland.
Bringing Barbie to the trustee table
Thankfully, TPR's guidance expects less from trustee boards than was required of Barbie (albeit there is no prohibition on psychedelic roller skates for trustees!). Trustees are encouraged to strategically consider the "diversity of life experiences, expertise and skills" of their boards and sub-committees and have policies in place to assess the scheme's performance against any EDI goals and objectives.
The guidance highlights:
the benefit of pairing fresh ideas from new trustees (the Kens at the table) with the experience and wisdom of those with a longer tenure (Barbie has amassed a lot of wisdom over her 64 years!)
providing reasonable adjustments and an accessible entry process to the trustee board
encouraging those from all backgrounds and corners of the scheme's membership profile to get involved.
Accompanying EDI guidance for sponsoring employers also shines a light on what sponsors can do to assist the trustees in their endeavours.
Be more Barbie
Most well-advised trustees already run inclusive Barbieland-style schemes. Practical tips and examples suggested by TPR to improve EDI may already form part of a trustee board's standard way of operating. What TPR's guidance does, however, is give credence to these efforts and encourages other schemes to start their EDI journey. Barbie-led Barbieland was well-run and worked for the many but by allowing Ken to express himself everyone benefited, Barbies and Kens alike.
The level of the Chair's engagement will be important in determining the success of integrating EDI into a trustee board. TPR challenges Chairs to lead EDI progress in their schemes, to influence recruitment and the succession planning of the board, as well as fostering an inclusive and welcoming environment; one where all Barbies and Kens are comfortable and confident to share their opinions, expertise and lived experiences for the benefit of the scheme and its members.
Not all examples and tips in the guidance will be right for all trustee boards. Schemes will need to assess what they can reasonably achieve considering the size and make-up of their board and the scheme members. However, EDI progress is a group endeavour and trustees must bring everyone along in their thinking to ensure success.
As trustees spent more time considering wider scheme governance and strategy in anticipation of TPR's General Code of Practice, there is no better time than now to ask: are you doing Kenough on EDI? If in doubt, just be more Barbie!