ESG and climate change for pension funds – Putting the law into practice
Read our 2020 guide, 'ESG and climate change for pension funds' here. 
Our latest guide on environmental, social and corporate governance (ESG), includes a full action plan for trustees, empowering them to get their scheme a step ahead, and equips them with the tools to challenge their advisers and ensure that the values of the scheme are accurately reflected in its ESG policies. Supporting trustees in this way ensures that schemes are able to put the complexities of ESG into practice effectively, ensuring not only compliance but also industry best practice.
With so many factors, dates, views and issues to consider it is unsurprising that ESG is a topic that prompts confusion as to what definitive action trustees should be taking, and how best to implement their decisions. With investment regulations coming into effect from October, TPR's updated Code of Practice also expected later in the year, and further Financial Conduct Authority consultations expected any day, trustees have a busy year ahead.
Containing an update of all the latest developments and progress surrounding trustees' duties in this area, the guide focuses on:
UK legal developments such as investment regulations and additional disclosure requirements for DC schemes
EU-derived legislation such as IORP II and SRD II
what's coming up on the agenda for trustees in the next 12 months, including TCFD, Stewardship and DC considerations
a re-examination of trustee fiduciary duties
a full action plan with practical actions for trustees.
Read the guide – ESG and climate change for pension funds
The guide has been awarded 'Best Thought Leadership Paper on Sustainable Investing' in Environmental Finance's Sustainable Investment Awards 2019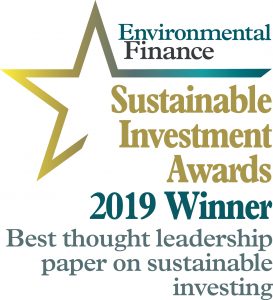 You can also read our previous ESG guides: Where next for ESG? and A practical approach to ESG